Enjoying tripping: pay attention to the set and the setting
When you start using a mind-altering substance, whether it be magic mushrooms or LSD, you naturally hope for an incredible and wonderful experience. To some extent, you also have that in your own hands. The set and the setting play a role in this. These two factors influence how your trip can go. In this blog we will take a closer look at what set and setting are exactly and how you can ensure that you create the best environment for an optimal trip.
What do set and setting mean?
You may have heard of set and setting in connection with tripping. The terms were coined by Timothy Leary, a well-known champion of the use of psychedelics in the 1960s. Set basically refers to your mental state and setting refers to the environment. Both can have a lot of influence on your trip.
Set: mood and emotions
Set represents you, how you feel right now. It's about your mood, your emotions and what's on your mind when you want to use a mind-altering drug. One day you feel different than another. Sometimes you feel cheerful, cheerful and relaxed. But it may also be that you suffer from stress, are grumpy or depressed. All your emotions, thoughts and your mood together form the set.
Setting: the environment
The setting is formed by your environment. This is not only determined by the physical space, but also by the people present. What is important here is to what extent you feel safe and comfortable here. For example, are you outside, and it's cold, or are you inside a close friend's house? Are there people present that you don't know well or that you don't feel comfortable with? Or are you with a group of close friends? The more comfortable you feel in a setting, the greater the chance that you will have a good trip.
It is not hard to imagine that the environment, the people around you and your own mood will influence your trip. A mind-altering substance can amplify the emotions you have, so it is certainly important that you take into account how you feel at the moment. Below, we explain what you can do to arrange an optimal set and setting.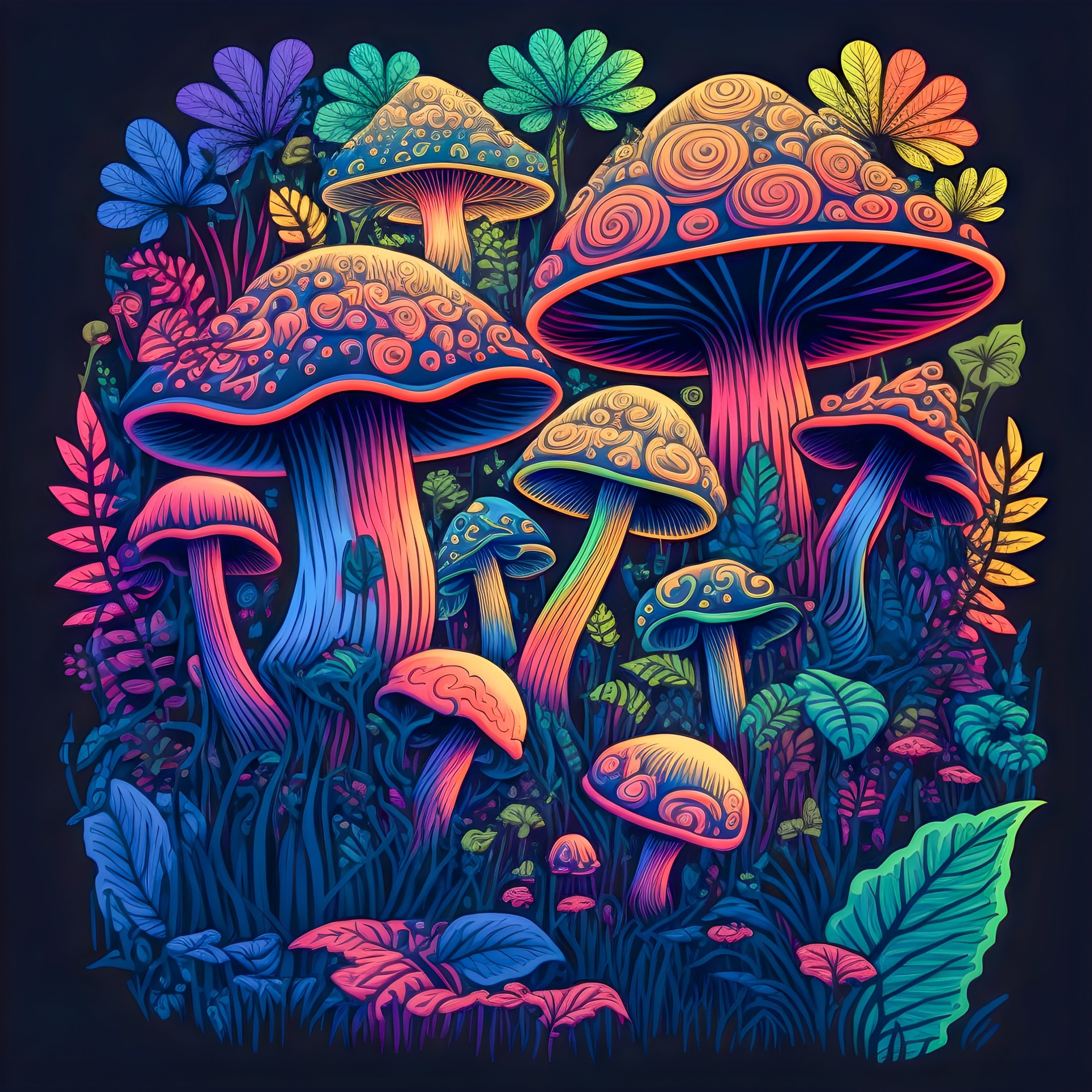 Set and setting: how do you create a good atmosphere?
Are you planning to go on a trip? Whatever you're going to use, be it magic mushrooms, truffles  or other psychedelics, it is important to ensure a nice, safe set and setting. Read below in the tips what you can do to prevent a bad trip.
The environment: safety and atmosphere
When you are going to trip, the first thing you can think about is the environment. If you have never used psychedelics before, choose a place where you feel completely comfortable. Your own house is a good choice, or at a good friend's house. Those who dare to experiment can also trip outdoors, but only do this if you already have a lot of experience.
Make the room or place as comfortable as possible. Provide blankets, pillows, something nice to eat and drink. Put on calm music that inspires you and makes you feel good. It's a good idea to create a playlist that will last several hours. You don't have to look at it anymore. Remove dangerous objects. Now you are ready for the trip.
What also plays a role in the setting is the presence of others. They can also have a big influence on your mood. If you don't feel comfortable or safe with those present, you may want to avoid tripping. You can feel paranoid or panicky under the influence of the drug, which can cause a bad trip. So only trip with people you know and like.
A positive mood
Before you start tripping, it is advisable to take a moment to think about how you feel. It may be better to postpone tripping if you are feeling anxious, sad, gloomy or stressed. Even if you are sick or very tired, it is better not to trip. All of this can negatively affect your trip, putting you at risk of a bad trip. Also, be careful with peer pressure. Are there people around trying to persuade you to do something you don't want to do? Think of taking more than you intended or taking a heavier or different drug. Don't be persuaded to do something that doesn't feel right.
Do you feel a little insecure or nervous before tripping? It's good to realize that you're with himt use of psychedelics, you can't control everything. It remains an adventurous event: you never know exactly how you will react to the drug and what you will experience. Try to surrender to the experience and enjoy it.
Latest tips for tripping
Although tripping is always a bit exciting, there is a lot you can do yourself to maximize the chance that you will have a great experience. Finally, we can give two good tips. The first is: Rule a tripsitter. This person will not use drugs or alcohol himself and will keep an eye on everyone's safety. This way you know that someone is looking after you during your trip and that is often very reassuring.
In addition, make sure you have enough time to enjoy your psychedelic adventure. Schedule the day off. That is not an unnecessary luxury, because a trip can take a few hours. And even after that, you still need some time to come back to earth. Also turn off your phone. This can also help you to fully surrender to your trip.