What is the best mushroom grow kit for beginners?
Since December 2008 magic mushrooms have been banned in the Netherlands. This ban means that smartshops are no longer allowed to sell magic mushrooms. Growing magic mushrooms yourself is allowed and is often done. The saying "shooting like mushrooms from the ground" says it all, growing your own magic mushrooms doesn't have to be difficult at all! In this article we would like to explain how mushrooms grow, what a 'growkit' or a grow kit is, which grow kits are guaranteed to be successful and what you have to do for that!


How do magic mushrooms grow?
Are you interested in growing your own magic mushrooms? Then it is first of all good to know how these magical mushrooms arise and grow. Mushrooms are not plants, but fungi and do not need light and seeds to grow. A mushroom feeds on decomposing material from nature, this is called the substrate.

The part of the mushroom that is above the ground is only a small part of this fungus. Mushrooms are connected to each other underground via a network of fungal threads. This is called the Mycelium. Mycelium can already arise from a few spores.


What do you need for growing?
In summary, you need the following ingredients to grow your own magic mushrooms:
Mushroom spores (you can buy these in the form of spores)
Substrate
Propagator or bag

Making a fertile substrate is quite difficult. The simple way to grow magic mushrooms yourself is therefore with the help of a magic mushroom grow kit. This set contains everything you need, including fertilized substrate that continues to grow with Mycelium. That considerably increases the chance of a beautiful bush with mushrooms.


Different types of grow kits
To make it as easy as possible for people, there are many different types of mushroom grow kits on the market. Think of; All-in-One Growkits, Fresh Mushroom growkits and Mondo Growkits. Which one you buy also depends on the type of mushroom you want to grow. In this case, we choose a grow kit that meets the following criteria:


Growing kit that requires as few actions as possible
Forgiving magic mushroom strain ideal for novice growers
When you order your first grow kit, it is useful to directly the Magic Mushroom Startkit can be ordered together. This way you have everything you need to work as hygienically as possible. Good hygiene is essential for a successful mushroom harvest.


Fresh Mushrooms Grow Kits
The Fresh Mushrooms psilocybe mushroom Growkits are by far the easiest growkits to set up. Upon arrival, you can place the grow kit directly in the grow bag without adding water. This is ideal, because with most other grow kits you first have to perform quite a few actions and you have to deal with a certain waiting time.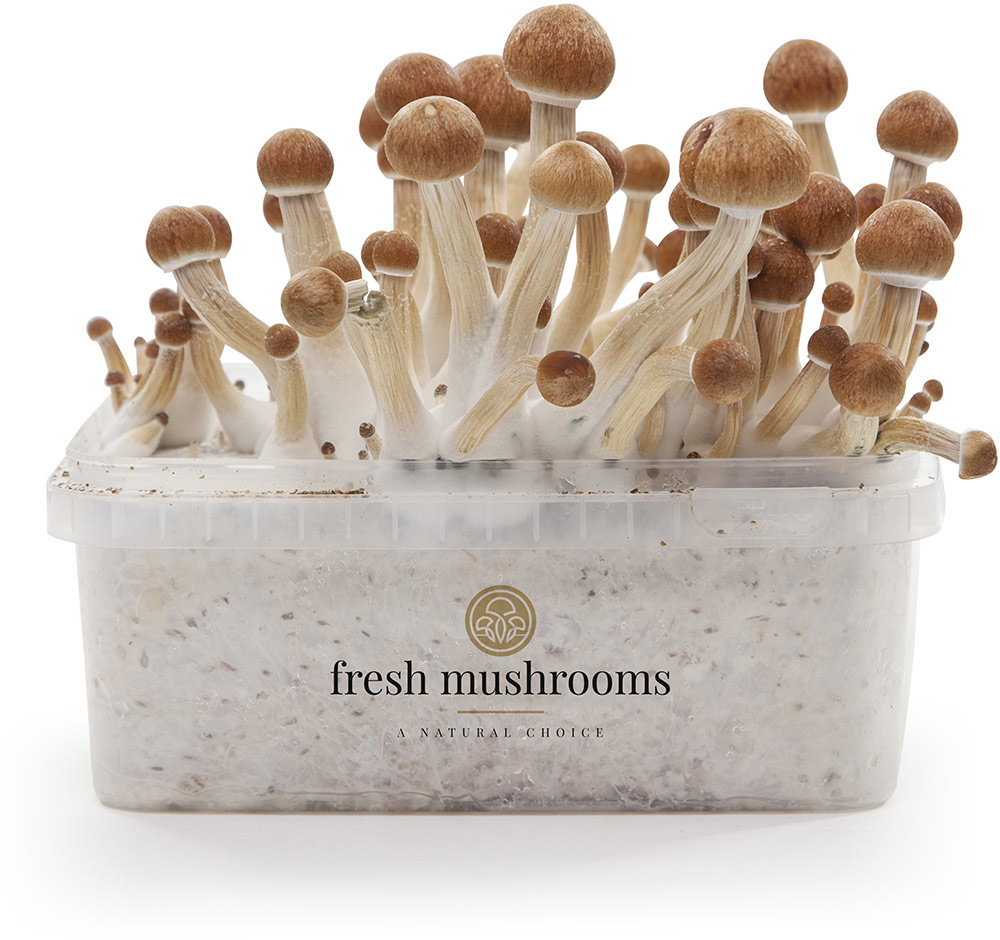 The Fresh Mushrooms Growkits are provided with the best substrate and fully grow with Mycelium. Do you want to be able to enjoy your harvest quickly? This Mycelium is extremely potent and will produce the most beautiful fruits in no time. Are you reasonably experienced in the use of magic mushrooms, but less in growing? Then we recommend the Magic Mushroom Growkit Golden Teacher on.


How does a magic mushroom grow kit work?
All grow kits or grow kits differ from each other in terms of manual. For the most basic grow kits, you still have to roll up your sleeves to gather a nice bunch of magic mushrooms. The steps for the Magic Mushroom Growkit Golden Teacher are as follows:
Remove the grow kit, plastic bag and paperclip from the box. Remove the lid from the grow kit (keep lid well). Rinse the lid under running water. You will need it again later.
Place the grow kit without a lid in the supplied plastic bag. Slide the opening of the bag under the bottom with the micro-perforation facing up. The opening of the bag is now largely closed. You don't have to worry about air circulation.
Now we have to wait untilyou see little balls growing. Is that the case? Then you have to put the bag upright, so don't water and open it a little. This way the water can evaporate. The first mushrooms will be visible after about 1 week. For a successful harvest, it is very important to harvest before the first spores fall. The blog, tips for a trouble-free mushroom harvest, gives you all information about this topic.


Environmental requirements for growing magic mushrooms
Place the grow kit in a place with enough daylight, but never in direct sunlight! In principle, magic mushrooms grow from a temperature of 15 degrees. However, the most growing temperature is 23 degrees. Special heat mats are available to achieve this temperature, without having to heat the entire room.


Does growing take too much time? Then go for truffles!
In summary, growing magic mushrooms is perfectly doable for the novice gardener. Do you not feel like or have the time to grow magic mushrooms yourself? Then buying truffles is a good alternative! The largest difference between magic mushrooms and truffles is that truffles grow underground and mushrooms above the ground. Truffles and magic mushrooms both help the fungus survive. That is why truffles contain approximately the same substances and therefore give similar effects as magic mushrooms!