How do you get multiple flushes from a magic mushroom grow kit?
If you are interested in using magic mushrooms, you can choose to grow them yourself at home with a grow kit. That may sound complicated, but in fact these grow kits make growing magic mushrooms incredibly simple. No special knowledge is required, and you don't even need a green thumb. And what's really nice is that it's very easy to make multiple flushes, or harvests, from a grow kit. In this blog, we will explain how to do that.
How do you grow magic mushrooms with a grow kit?
A grow kit contains everything you need to grow magic mushrooms at home. It contains a breeding box with a substrate, this is a nutrient medium and the mycelium, from which the magic mushrooms form. Furthermore, the set contains a grow bag and a manual that helps you to get beautiful harvests. There are different brands of grow kits, but they all work about the same.
If you follow the guidelines, you will have your first mushrooms ready to harvest within a few weeks. A harvest is called a flush in mushroom circles. Harvesting must be done at the right time: not too early, but not too late either. It is best to harvest the mushrooms when the membrane under the cap has not yet torn or has come loose. But harvesting too early or too late is not a disaster either. However, when the membrane comes off, this also means that the mushroom will release spores. And that has consequences for the next harvest, or flush.
If you would like to get several flushes from a grow kit, it is important to harvest before the mushroom releases spores. Because when that happens, it triggers the mycelium to produce a hormone. And that ensures that new mushrooms can generally no longer grow from the mycelium. If you have paid attention to this, you can read more below about how you can increase the chance of multiple flushes.
This is how you get multiple harvests from a mushroom grow kit
In fact, a grow kit is meant to get a single harvest. That is of course also nice, but we would like to try to get just a little more out of it. And with a simple technique you can! There are two ways you can get one or even two or three extra flushes from your grow kit.


The first is to immerse and soak the substrate. Place the grow kit in a tub or container and leave it completely underwater for 12 hours. Then take it out and let the excess water drain out. Put it back in the grow bag. From now on, new mushrooms can grow again, and they will produce a new flush.


The second method is faster, but costs more water. Place the container with substrate in the sink under a running tap and let the water drain. You do this for 2, at most 3 hours. This also ensures that the substrate is well soaked with water. After this, just like with the previous method, you can put the container back in the grow bag and the substrate is ready for a new flush.
How many flushes can you get from a grow kit?
Getting multiple harvests from a single grow kit is obviously a great idea. But how many flushes are actually possible? That cannot be predicted. Some growers, who keep a close eye on their magic mushrooms, can sometimes get 3 flushes from a single grow kit. But do know that every mushroom grow kit and every grower is different. It is a natural product, and it is difficult to predict how the growth will develop. But maybe you can also manage to get 2 or even 3 flushes from your grow kit.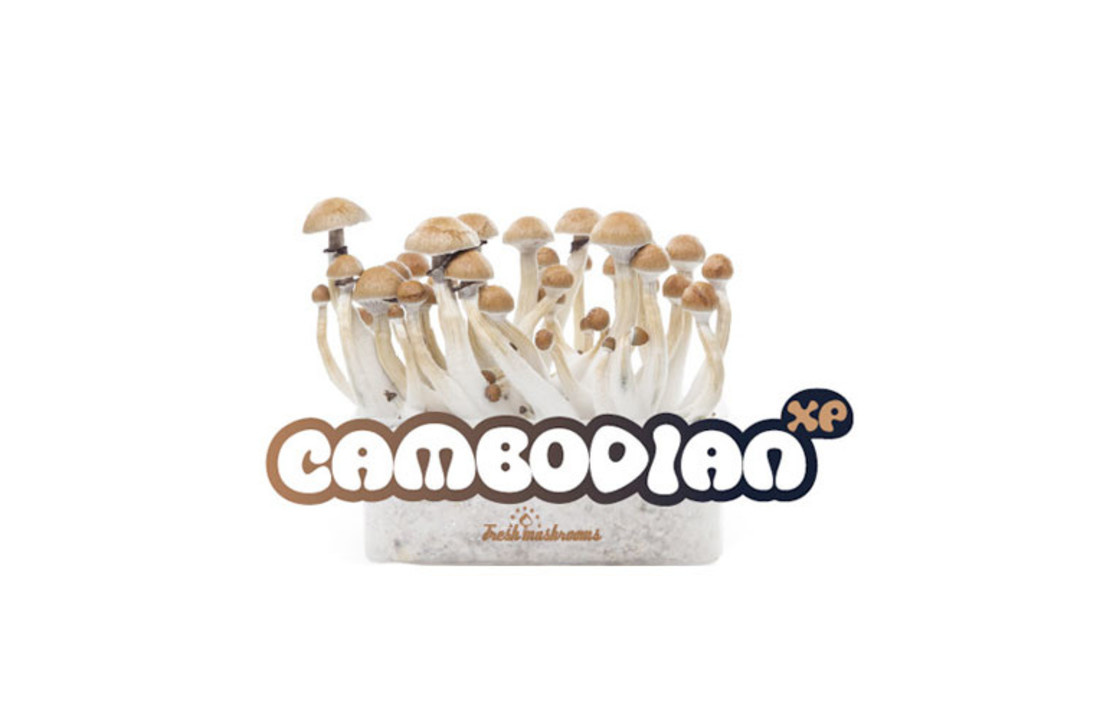 Favorable conditions for growing magic mushrooms
If you would like to harvest a nice mushroom, or maybe even more than one, it is important that you provide the most favorable conditions for your mushrooms. They don't need much, but with a little extra attention, you increase the chance of a good harvest. Keep an eye on the following factors:
Light
The best place for your mushrooms is where there is light, but not in direct sunlight. So don't put your grow kit on the windowsill. The temperature fluctuations are also too great there. Because the mushrooms are in a grow bag, it can quickly become too hot in the sun during the day. And in the evening it cools down considerably. So place the grow kit in a bright spot, but not in the sun. The first small cups generally emerge within 15 days.
Temperature
The ideal temperature for magic mushrooms is around 23.5 degrees. The average living room is usually about 19 degrees, so that's just a bit lower. Your mushrooms will come up, but it may take a little longer . You may also get fewer mushrooms. What can help to achieve the ideal temperature is a heat mat. You can adjust it precisely, so that your mushrooms can enjoy the optimal temperature and you can get a good harvest, or multiple harvests.
Enough fresh air
All living creatures need oxygen, including your magic mushrooms. That is why sufficient fresh air is a prerequisite for getting one or more good harvests. You can achieve this by opening the grow bag every day, so that fresh air can enter. That way you get a good humidity level and a supply of fresh oxygen.
Humidity
The humidity was already mentioned above. Magic mushrooms do like a little humidity, the ideal relative humidity is around 90%. That is why a grow kit also contains a grow bag, in which you put the magic mushroom grow set. This retains the moisture present for as long as possible. If you place an infrared heat mat under the set, it will help to obtain the ideal humidity for your mushrooms.
Are you planning to purchase a magic mushroom grow kit? As you can see, growing magic mushrooms is not difficult, and you can even get several flushes out of it quite easily. With the above tips, you can also grow magic mushrooms at home. Choose one of our grow kits, use the supplied manual, and before you know it you can harvest your first magic mushrooms.